I have never been a fan of using earplugs, as I only wear them about 10% of the time. I could never find any with a balance of comfort, effectiveness and practicality. The nice people at Auritech sent me a pair of their specific Auritech biker earplug to change my mind.
Plugs that are great at blocking out road noise can be extremely annoying when stopped. Some types caused me an earache and often once taken out, they didn't get put back, exposing me to dangerous noise levels.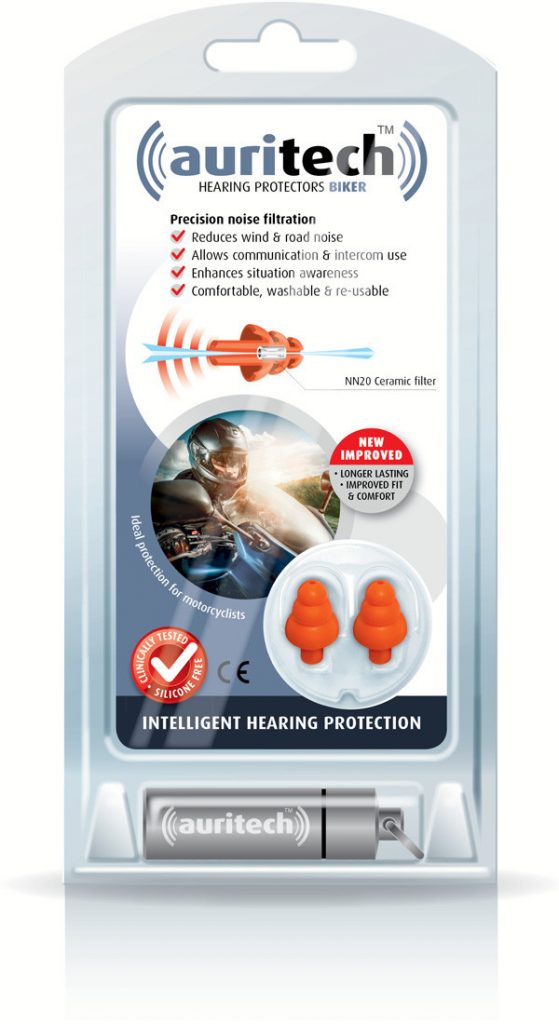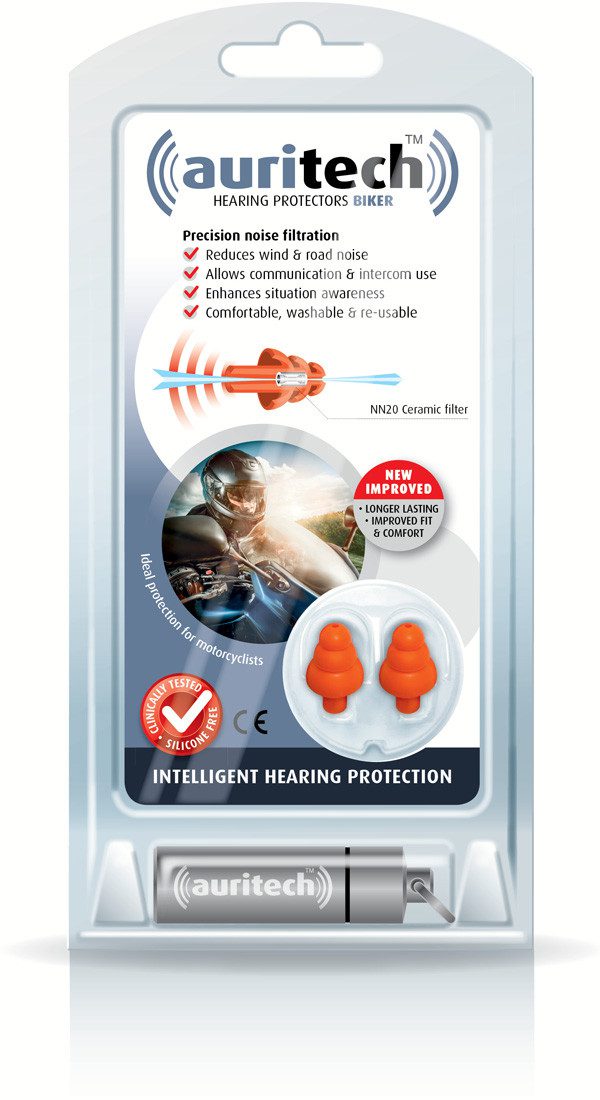 I know I've abused my hearing, the constant barrage from loud engines, loud music and industrial noise due to my job, takes its toll. All of this damage is irreversible but preventable.
At 28, I sometimes get ringing in my ears and severe headaches. Having a loud bike doesn't help with this.
Many people wish they had protected their hearing sooner.
Throughout writing this, I've spoken with people, to find out their take on hearing protection. It was alarming how many said they wished they started using it sooner.
Hearing protection always seems a bit of a taboo subject, and I feel a bit of a nerd talking about it to others, although it's a wrong feeling to have.
Auritech Biker earplug feature a ceramic filter insert into the plug filtering out damaging levels while allowing other road noises. This is all housed inside a silicone plug allowing easy insertion and cleaning.
The documentation says there is an attenuation level of 29.6dB at higher frequencies, which is comparable to the heavy-duty foam disposable plug commonly used. Time to test them.
Inserting the plug is easy, pulling the earlobe up slightly and pushing the plug into the ear, with a slight twist. A little prod and wiggle, once in, get optimal comfort. The soft silicone material easily flexes and contours to the shape of the ear and provides a good seal.
I could still hear the birds singing
At first, I couldn't tell the difference, everything sounded normal. I could still hear people talk to me, could listen to my footsteps walking along the pavement and could hear the birds singing.
As I started the bike up, I immediately noticed the lower volume from the can, it seems a lot less bassy compared to normal but the best bit, I could still hear the birds tweeting away.
When out on the road, the difference is alarming, not just exhaust noise but also wind noise on the helmet. That buffetty constant wind noise drone, has the volume lowered to a comfortable level, the exhaust bass note that reverberates through my head is reduced to a bearable level, but the best part is crackles and pops from the exhaust are still audible.
Check out the review of the Shark Race R pro here!
Even when riding stock bikes without loud cans on, it's still a great relief to not have the constant wind drone. Music and sat-nav directions are clear through my in-helmet speakers.
Less fatigue on long rides using Auritech biker earplug
Another unexpected bonus, I have found myself less tired after a long day of riding.
The supplied aluminium case is a quality piece; it looks the part, protects the plugs and acts as a reminder to store them away properly. I have used the keyring and attached the canister to a zip pull inside my leathers. I don't leave home on the bike without my leathers, so can't forget my earplugs now.
Pricewise the RRP is £19.99, so roughly 130 pairs of disposables. The quality of the Auritech Plugs are high and provided the plugs are kept clean and washed regularly. I can see them lasting a long time. £19.99 is a cheap price to pay. I'm a convert to wearing plugs, I never saw the benefit before, but now I do.
Click the link to find out more information on the Auritech biker earplug