Honda Fireblade SP1
5 min read
I had bagged an invite to the illustrious Bruntingthorpe proving ground to ride the brand new
CBR1000RR Fireblade SP1. Bruntingthorpe is an airfield circuit and up until a few years ago, was home to Vulcan to the skies project. It now consists of a 2 mile long straight, and some very, two tight right-handers and then a pair of left and then right delicious sweeping corners with another straight and then a nice flip flop chicane.
I was riding it a few days after TT 2017. You know the one where Guy Martin had a "moment'. The race bikes on the road racing scene have been plagued with issues. Keyboard warriors don't know that the race bikes run a completely different box to the road bikes. Social media was set alight with speculation, and as we all know, rumours spreads like wildfire. I'm not one to believe until I see it first hand. I couldn't form any valid opinion of it without actually giving it a go, so I went in with an open mind. It dawned on me that this was a top of the range £20K special edition bike which wasn't mine.
I saw the bike parked up and it looked absolutely beautiful. The HRC colour scheme sets this bike on fire. Gold wheels and the classic, but revised HRC livery certainly make it a looker. The CBR1000RR Fireblade SP1 is exceptionally well equipped. Full-colour TFT dashboard, Ohlins electronic adjustable front suspension and up are asnd down quick-shifter/autoblipper.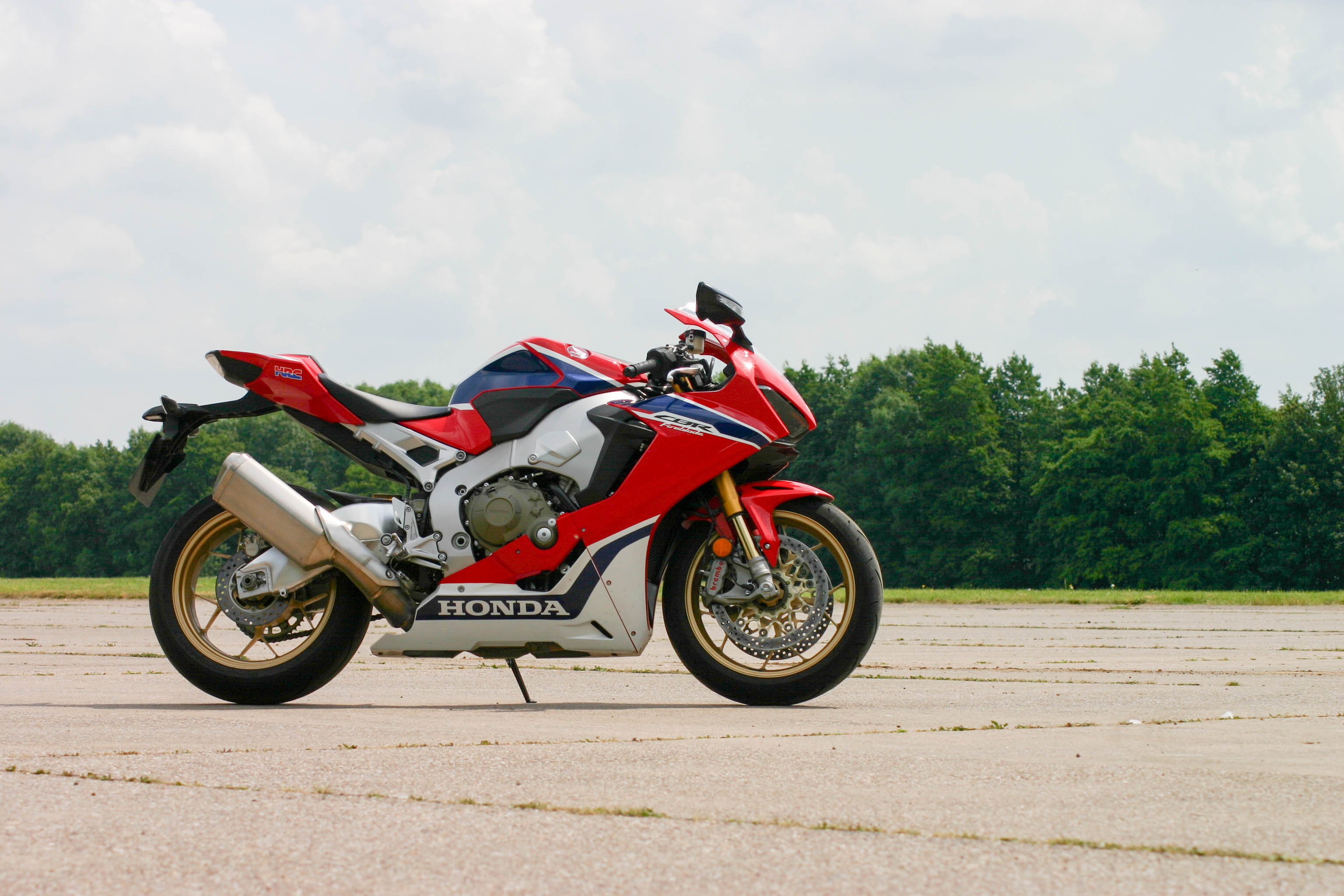 The windscreen on the SP is tiny. I am 5"7', and I couldn't get fully tucked up behind it, so there is quite a lot of wind. I get why the screen gets replaced with a double bubble on the TT racers. The Ohlins electronic suspension is a real piece of kit, but the blade isn't the only bike employing such as system. It is becoming commonplace on a lot of the top of the range bikes. The blade soaks up the bumps nicely although I haven't been on the standard Fireblade to compare it to the non-Ohlins version.
The dashboard is a work of art. It gives clear and concise information but then also some real novelty items too such as lean angle and lap timer features, and changes to the fully adjustable suspension, traction control and engine modes.
Fancy something green and supercharged? Check the H2 SX SE here!
The autoblipper is also a thing of beauty. With the throttle completely closed, and with a proper click down with the left boot, it clicks into gear and rev matches nicely.
Having never been on "track" before it was quite unnerving. Even more when I remembered it was a borrowed bike. The long straight and twisty wide corners had me wondering what was coming the other way, before remembering there was nothing but clear tarmac. Good experience though nonetheless and I definitely have the itch to do a proper track day now.
The CBR1000RR Fireblade was lapping this up despite my nerves. I started off slowly gradually building speed and confidence. What also helped was having an accomplished racer as a chaperone. He gave me some pointers after each session. Mainly asking me why I was going so slow. This wasn't the fireblades fault. The bike itself was well capable. Much later I decided to start twisting the throttle to the stops and smashing it up through the box. With the quick-shifter working, it's magic, I hit 176 indicated on the speedo. Good going, but I was determined to hit the magic 180 barrier. I got a second wind and twisted again. The engine just kept going, it sounded amazing and kept pulling all the way past my 180mph indicated goal. That was when I backed it off. I was really happy about that.
From watching the footage back a full-throttle roll on from 45mph to 180 took around 14 seconds. Mental.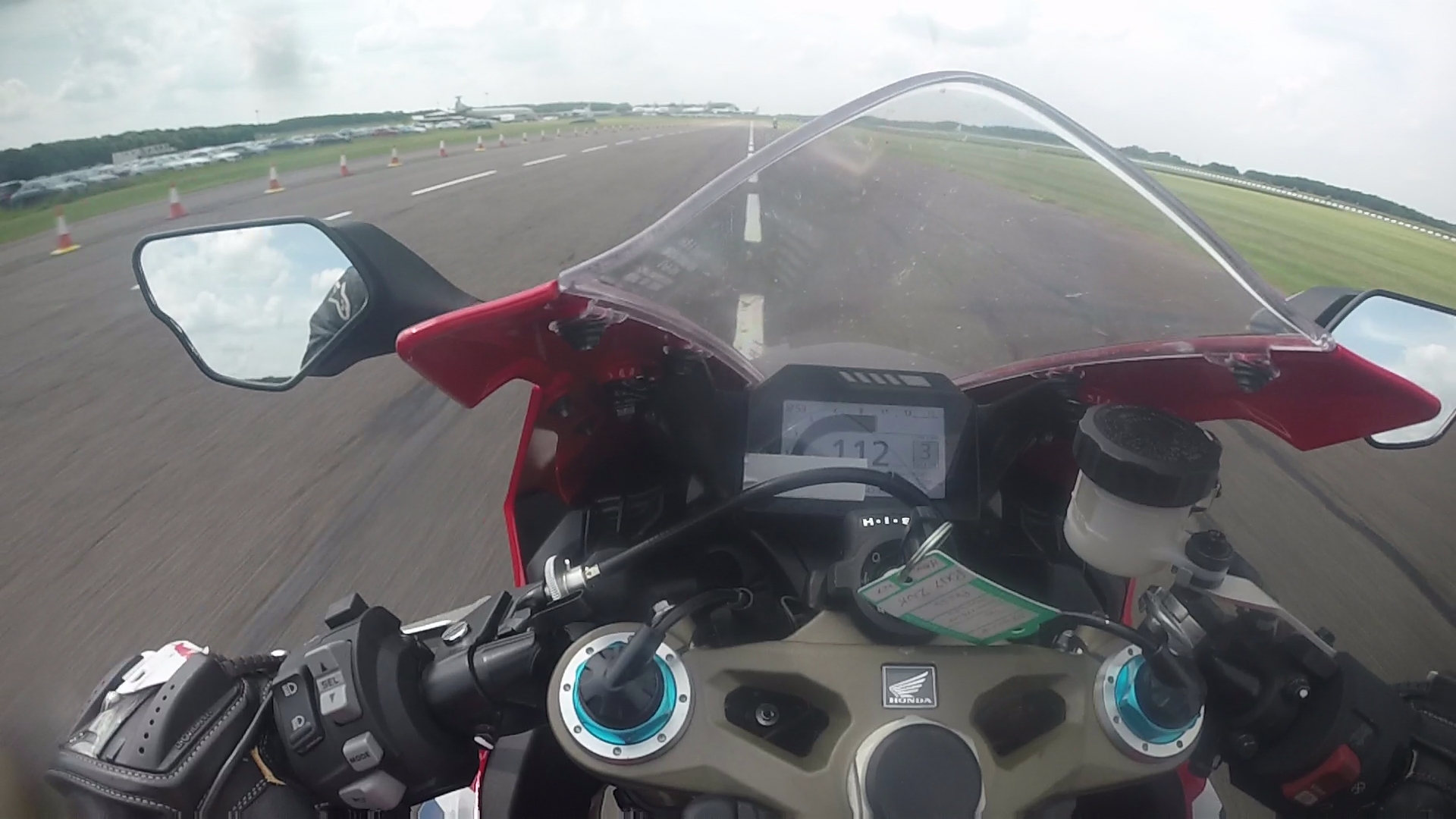 The engine on the CBR1000RR Fireblade SP is tweaked over the standard blade. It revs harder, faster, and is lighter. The revs seem to build and build and just keep going. I didn't get anywhere near the redline, not because I didn't want to, but because it just wasn't needed. The way it builds speed is insane. By the end of the day, I was getting really confident and letting it go full chat down the long straight, fully tucking behind the tiny screen and grinning from ear to ear.
Going back the past few years, designers haven't really been on form when it comes to designing nice looking exhaust systems. Some of them look bloody awful, like sick in your mouth hideous. Fortunately, though the fireblade exhaust looks the part, and it sounds fantastic too. The engine note really howls, both from behind the screen and also when spectating from afar. There are various aftermarket systems available and I can only imagine that they sound unreal judging by how good the stock is. I have heard mutterings that some tracks are pretty unhappy with the noise made by the standard SP can so be careful when putting that full system on as if it's hard to pass noise tests on the standard can, then that shiny new Akrapovic is definitely going to blow the noise meters.
With hindsight now, my thoughts go back to the internet trolls, making jokes about endless false neutrals on fireblades, well I had nothing of the sort. The bike ran flawlessly for me all day. I guess the joke is on them. All I have said to anybody who has brought it up was that they need to get on a blade themselves and try it out.
Price-wise it does seem expensive I have seen used ones for around 16.5k with low mileage and some tasty goodies already fitted, a bargain to the circa 20k new, if you can get your hands on one. (prices correct at time of writing June 2017). Price is steep. It's expensive because of the quality components equipped. Electric Ohlins, colour displays and all the other electronic aids are certain to bump the price up, Honda has gone all out with this bike. Competition like the R1M and the V4S is all around the same price tag. It is worth every penny, I'm going to have to get saving, or failing that, does anybody want to buy a slightly used kidney?